Chuwi GemiBook XPRO Laptop Review
Currently at $249 on both Amazon and AliExpress, the Chuwi Gemibook XPRO has a nice bump in performance with it's new Intel N100 processor…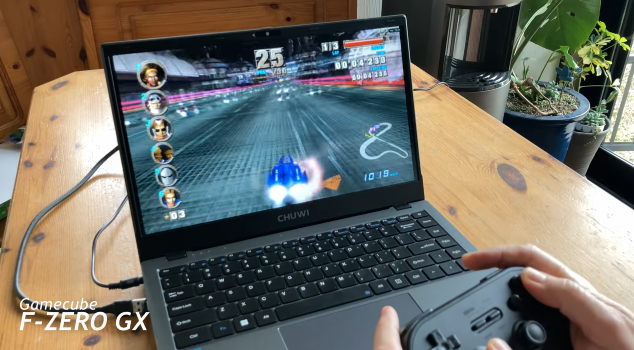 Need a new laptop for the family or work?
This one from Chuwi is really light, cheap, and it ain't bad at all!
It carries on the legacy of the Gemibook Pro that we reviewed last year, which was INCREDIBLE for the price.
Currently at $249 on both Amazon and AliExpress, the Chuwi Gemibook XPRO has a nice bump in performance with its new Intel N100 processor. The N100 is a quad-core, 4-threaded processor that runs at 3.4GHz.
It also uses Intel UHD Graphics with 24 Execution Units, which opens more possibilities when it comes to games in Windows. We get 8GB of single-channel DDR4. We'd have loved to see DDR5, but for the price, we certainly cannot complain.
Chuwi included active cooling and it is extremely quiet on light loads, even when you push this system the fan noise is kept to a peaceful whisper.
As for the ports, we have a full-sized HDMI, USB-C, USB 3, and a headphone socket.
The laptop comes with a fully licensed Windows 11 Home installed on a 256gb M.2 SSD. The SSD included is faster than regular 2.5″ mechanical drives, but it's not going to break any records. It is noticeably slower than the one included in the last Chuwi GemiBook Pro. It's a shame to see there's no MicroSD slot and only one slot for the m.2 SSD inside, which is already populated by a generic 256gb SSD. There's no place for this laptop to expand.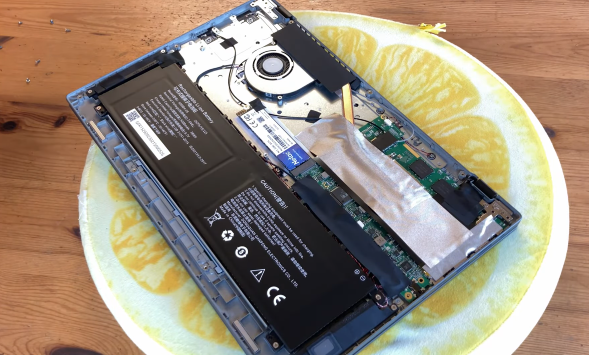 We're glad to see good battery life. Around 6-8 hours unplugged can be a dream for anyone who needs to work whilst commuting.
The keyboard is functional, some may describe it as cheap, and if you want your keys to light up, you won't find that here. This was on their prior laptop, and not including this is probably another decision related to keeping down costs.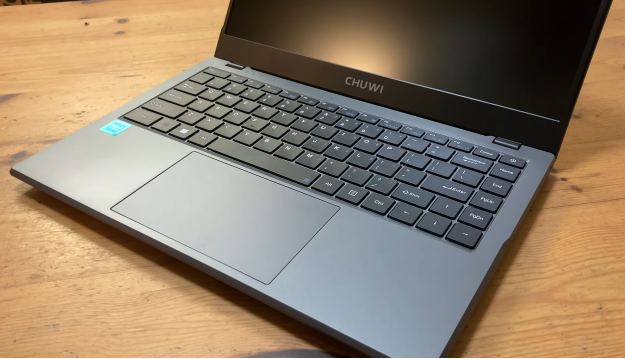 The display is a bright non-glossy 14.1″ 16:9 IPS screen. Unfortunately, the gorgeous 2K 3:2 IPS screen from the last Gemibook is nowhere in sight, and this one feels smaller, due to the different aspect used. Chuwi definitely needs to embrace 3:2 displays, especially for their smaller laptops.
When using Windows software, this laptop can pretty much do it all: Office, internet browsing, graphic design… As long as you're not in need of any heavy GPU hardware acceleration, we're good to go.
As for gaming, the XPro has its limitations. PPSSPP runs upscaled PSP games with flying colours, and when it comes to heavier 3D games, the XPro does struggle. Games like Fortnite and Forza Horizon 4 are playable in 720p at low settings, but honestly, it's better to think of this as an extra rather than the main meal.
If you want to see how well games run on this laptop, we've made a video showcasing what it can do here: https://youtu.be/RqmfZz04Se8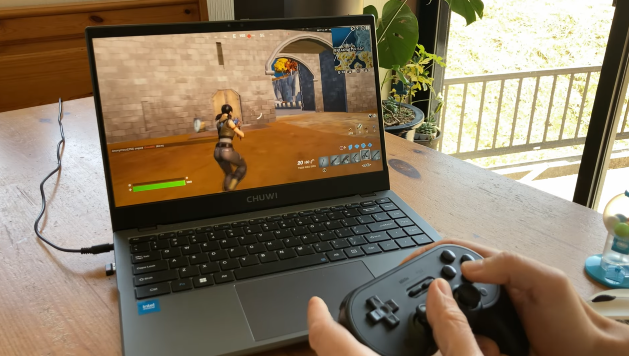 Many may quickly give it a pass as this can be seen as a "cheap and slow computer"- which is not the case at all. Looking at CPU benchmarks, it sits in between the i5-4570 and the i7-4770, which were both seen as extremely speedy CPUs on release. If it had a little more powerful GPU, we're pretty certain it would be a perfect laptop. Great battery, is light enough to carry, and would be able to play some 3D competitive online games… Not much more was needed!
Best use scenario for the Chuwi Gemibook XPRO Laptop
This laptop would be a perfect laptop for either a student or a family. The computer is VERY capable for most Windows tasks, and its biggest limitation would be for 3D gaming. It can play a WIDE variety of games, but if you're needing something to play CSGO or newer 3D games at a good speed, then you won't find it here. If you live in the past like we do, using this to play classic games and emulate classic systems suits it well.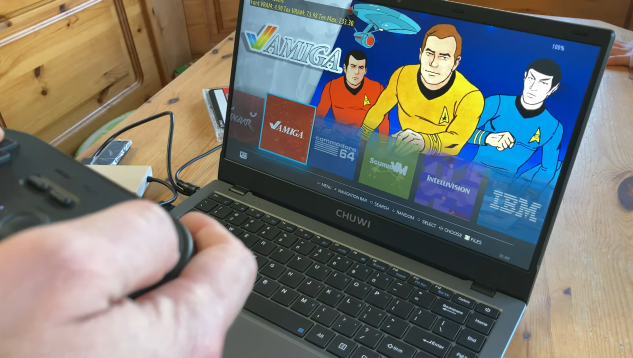 Pros and Cons
Pros: Cheap, great value, light, responsive, battery life
Cons: Limited ports, expandability, 3D Gaming
Rating: 4.5/5
Where to Buy the Chuwi GemiBook XPRO:
Amazon: https://amzn.to/3oWzFIo
AliExpress: https://s.click.aliexpress.com/e/_DE0KAtJ
If you want to see more on this laptop, please check our FULL Video Review that is available on YouTube: https://youtu.be/UH1GWybinl0