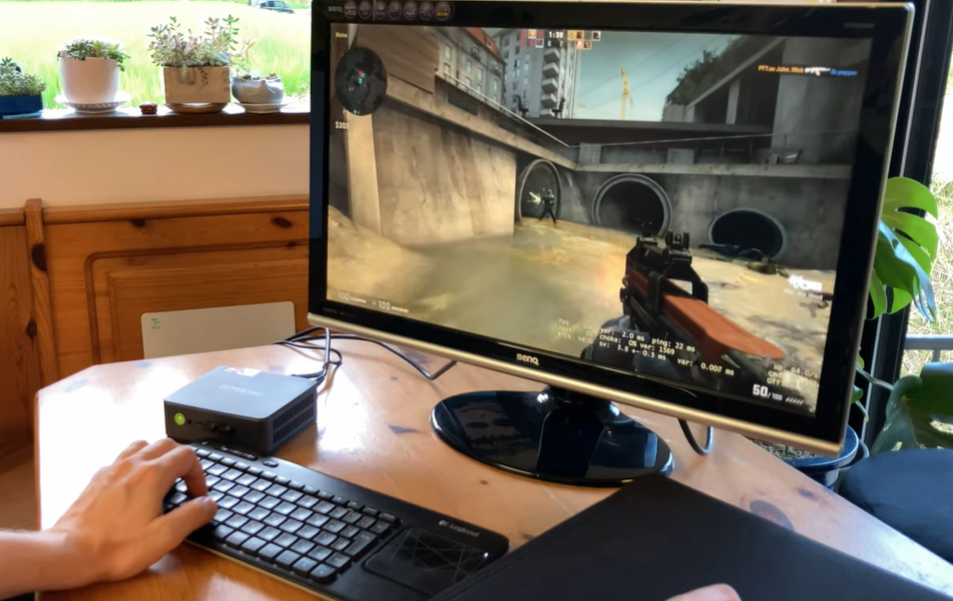 GMKtec with their NucBox K2 brings the powerful Ryzen desktop experience into a small compact box.
Budget Mini PCs have improved so much in the past couple of years with the Intel chips, but the GMKtec NucBox K2 in comparison, is COMPLETE overkill… But does it perform in the right places?
At the heart of this small beast is an AMD Ryzen 7 7735HS. An 8-core, 16-thread CPU that can boost to 4.75GHz.
In benchmarks, it performs BETTER than my Ryzen 3900x, and even some of the Threadripper series. This mini PC is INCREDIBLY FAST!

This is coupled with 680M Radeon onboard graphics, which is comparable in performance to a Geforce 1050TI.
This should play most games well, as long as we don't need to crank up the settings of AAA titles, or raise the resolution above 1080p.

The board is populated with Dual Channel Crucial DDR5 4800 (2x16GB) RAM, which will help when gaming whilst using the onboard graphics.
The NVMe included is a 1TB Lexar NM610 Pro PCIe 3×4. The motherboard supports PCIe 4, so their choice to use this card isn't optimal and is more likely a cost-cutting choice. It's a decent brand, and reasonably fast.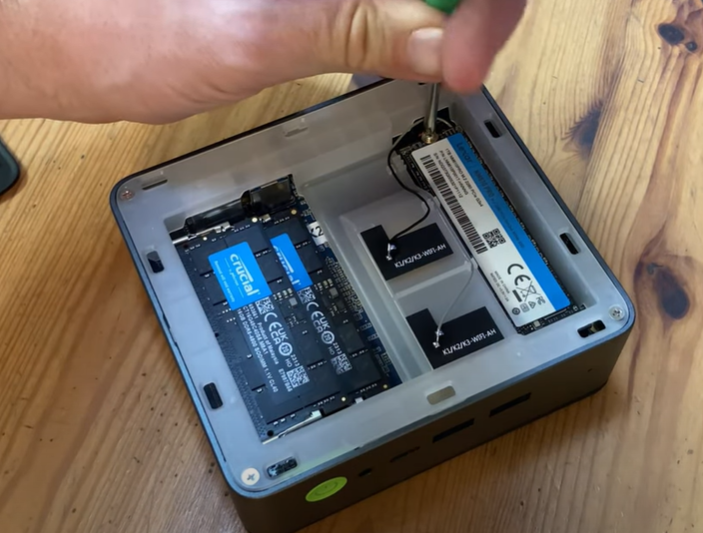 Windows 11 Pro is pre-installed, and like every other Mini PC, requires around 5 minutes to set up the system at first boot.

Performance in Windows is EXTREMELY light and snappy.
Users will easily be able to browse the internet, watch 4K videos on YouTube or Netflix, and do all their work in Office with no problem.

If you wanted to push the limits, productivity tools are even in the range of this system.
Audio production tools like Reaper and FLstudio can be used, have multiple wav tracks bearing a ton of VSTs, and it won't break a sweat.
Software like Photoshop and Davinci will also work well, but if the system needs to use more graphically intensive processes, it'll start to struggle.
Think along the lines of demanding scenes in Blender or CG packages, where CG artists always demand to have the best Graphics card.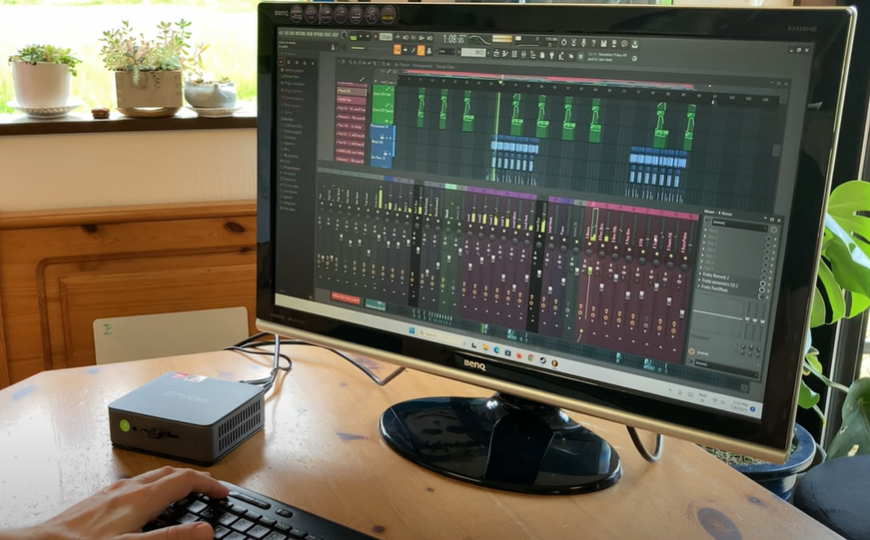 Games as a whole played well.
At 1080p, indie games such as "Streets of Rage 4" and "I Am Bread" ran great, as did newer titles like "Tekken 7", even on high graphics settings.
Some games did need to be dialed back a little, such as "Forza Horizon", where we needed to select Medium Graphics… "GSGO"? This thing EATS it up!
Those titles based on the Unity Engine such as "Fortnite" and "Ghostbusters Unleashed" performed quite poorly in 1080p. There would be FPS over 100 in some sections, and then it'd slow down to around 35. This could be an issue with the Unity Engine not being optimized well for the Radeon chips, however turning down the resolution to 720p will get these games running at a stable rate.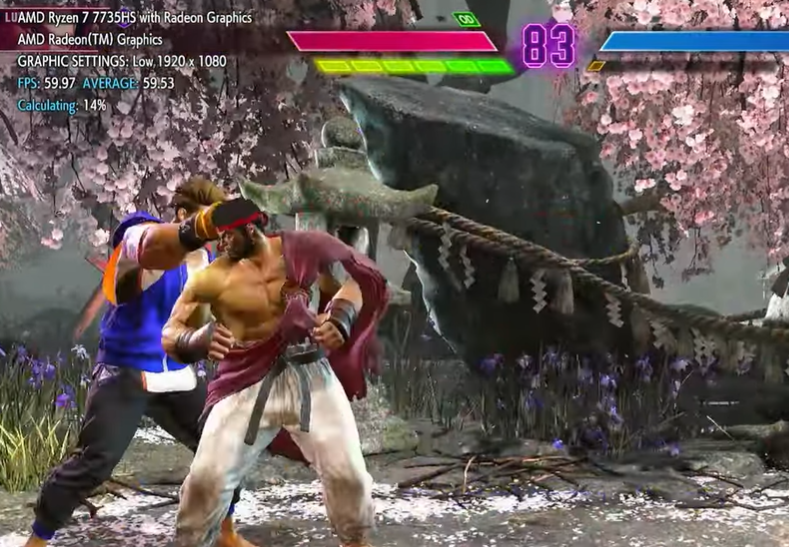 The 680M onboard GPU is similar to a 1050TI, which is an amazing achievement in such a small form-factor.
Unfortunately, when you have such an incredibly powerful CPU in the system, the GPU feels somewhat underpowered in relation to the rest of the computer. If you're wondering as to the limits to the games that can be played, there are websites displaying the performance of a 1050ti which can give you an idea of what this mini pc is capable of.
And when we try emulation? WOW! This is IMPRESSIVE.
It could run anything all the way up to PS3 AND Wii-U. "Wii" won't test any further because of… Reasons.
The NucBox K2 is not exactly a low-power mini PC (even though it pulls FAR LESS than my main PC), but idle it pulls 15w, and under load (playing "Tekken 7") it uses around 50w. If you know what a Steam Deck sounds like, this is very similar.
Not noisy, nor is it quiet. (That's what she said – John)
One concern is that the air vents at the bottom of the unit are completely covered when attached to the back of the monitor– it fits TOO snug! Even though it doesn't overheat, having a bit more space to breathe would be beneficial.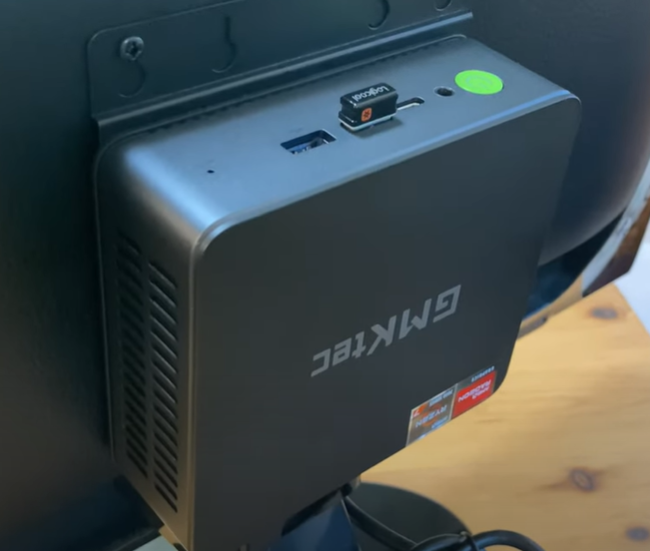 The GMKtec NucBox K2 is a very powerful, and capable mini pc.
This should definitely be on your radar if you're a power user, but if you really need to play the latest games at 4K, you'll need to wait for a better chip.
Pros and Cons
Pros: Powerful, premium looks, good parts, reasonably priced
Cons: Limited 680M GPU, VESA mount needs a little more room
Our Video Review can be viewed here: https://youtu.be/2kobqKas9qA
Rating: 4.5/5
► Purchase links
GMKtec Website: https://go.teampandory.com/gmktec
Amazon: https://amzn.to/44eESLi
AliExpress: https://go.teampandory.com/gmkteck2