Miyoo Mini Plus Review
What's better than the Miyoo Mini? Try the Miyoo Mini PLUS!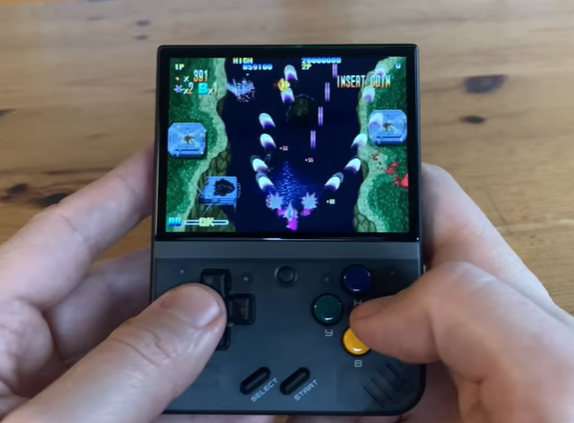 AKA Miyoo Mini+
Remember the handheld of 2022? Well, it's BACK in a slightly larger form!
For the $80 price tag, there's only the Anbernic RG35XX that can compete, and both of these units certainly trade blows.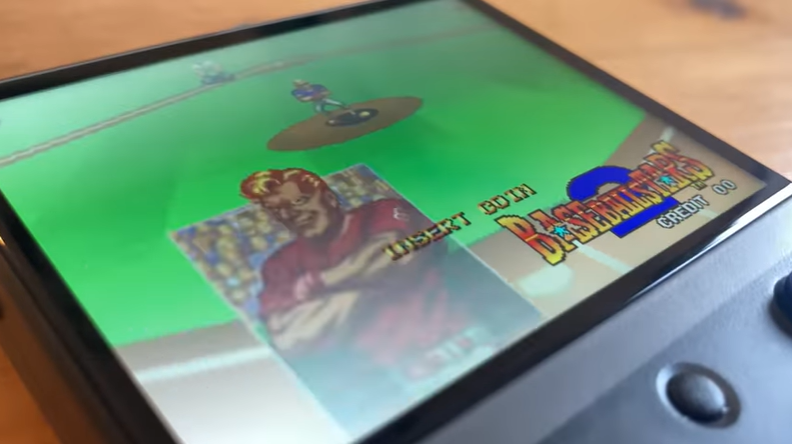 The Miyoo Mini Plus is essentially a larger version of the Miyoo Mini. The only differences are the larger shell making it easier to hold (but not as portable or cute), a larger screen and battery, and the addition of WiFi. We just wish they'd have given us a power boost from the original Miyoo Mini. A few more Mhz would have gone a long way.
Specs (Image pulled from Amazon)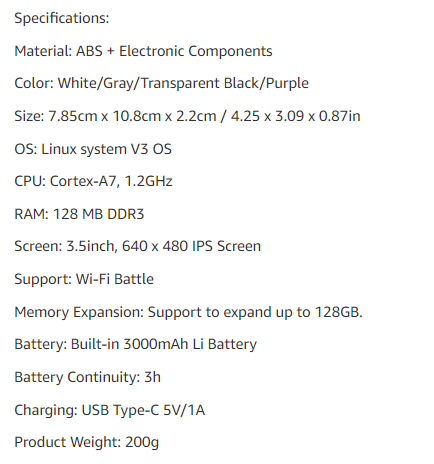 When it comes to the overall feel, it does feel a bit better in regards to ergonomics vs the original Miyoo Mini, but it's still not as comfortable as Anbernic's RG353 line of handhelds or even any of Retroid's handhelds. Where it really does hit it out of the park, is if you're looking for light and responsive buttons. The DPAD on the Plus is a little small but is light enough to feel somewhat like the Dpad of the Sega Megadrive. The front-facing buttons allow super quick tapping… Daley Thompson's Decathlon, anyone? On the back, it has 4 "shoulder" buttons that take inspiration from the RG353V and RG353VS which we reviewed earlier.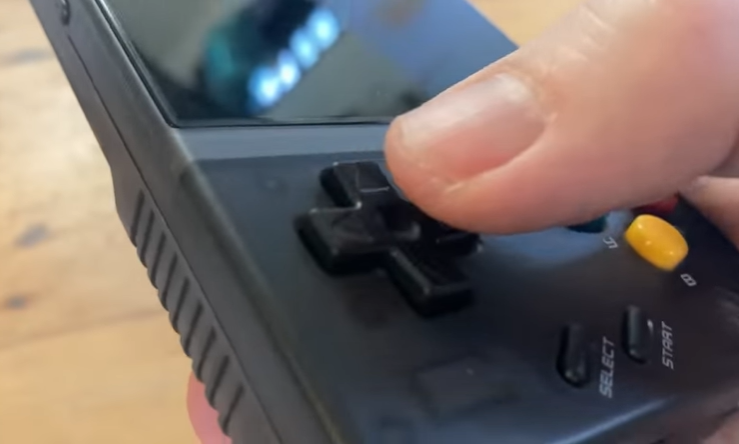 The screen is a 3.5″ 4:3 640×480 IPS panel. It doesn't deliver the same lush saturation of the OG Miyoo, but it still delivers a nice bright image that stands amongst Anbernic's finest 3.5″ displays.
Stock firmware plays a nice selection of 8-bit to 32-bit machines, it includes Megadrive, SNES, Playstation 1, arcade in both horizontal and vertical screen modes (Who could resist a little TATE?), and many more. There are some problems that mirror the stock FW for the original Miyoo Mini when playing some GB titles, such as Final Fantasy Adventure. These issues can be fixed by using custom firmware.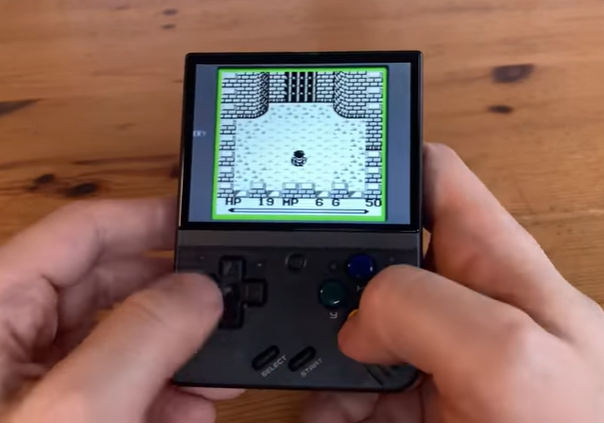 Much like the original, adding OnionOS (Custom Firmware) transforms it into a VERY slick handheld. It's fairly easy to install and adds features such as more systems (Amiga, C64, Spectrum, etc), and the ability to quickly switch games using the game switcher. Many really don't realize that most of a system's personality comes from the software itself, which is certainly the case here. Very much like the original Miyoo mini.
As for performance, you can expect full speed all the way up to PS1. Some arcade games can slow down, but that can be expected. NeoGeo runs great, but Turbo OutRun running FBNeo runs at 90% at the more demanding parts of the track with the weather effects in play.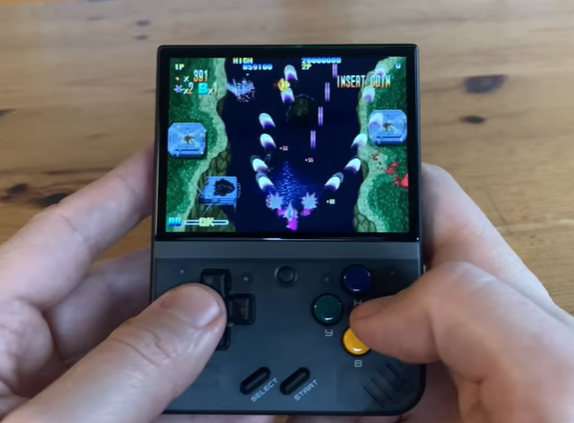 For Amiga users, you may be happy to see that the easier-to-run Amiga games like Lotus 2 and Turrican 2 are running at full speed. Jim Power needs a bit more … Power, as do the Amiga 1200 AGA titles. For those really wanting to play Jim Power, we can always use the Atari ST version which runs the game without slowdown. Only with more beeps and bloops.
If you're looking for a new handheld that doesn't break the bank, then the Plus can deliver an amazing experience and solution for the earlier systems such as GBA, SNES, and PS1.
If you already have a Miyoo Mini, then it may be worth a purchase if you find the device too small for your hands, and like what it can deliver. However, if you're wanting a real upgrade, then it may be worth looking at any of the RG353 range or the Retroid Pocket 3+, as they will be able to emulate more systems such as Dreamcast and even PSP.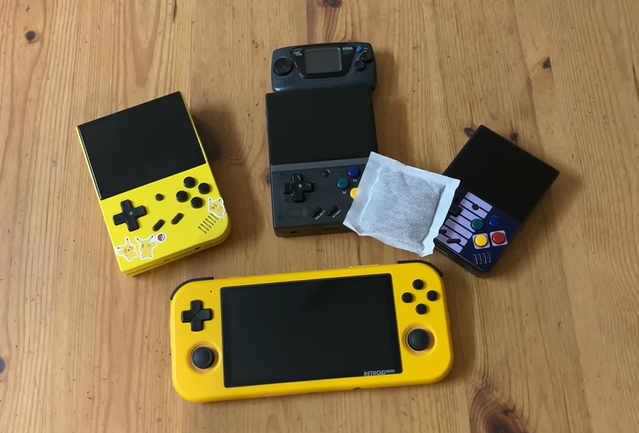 Pros: Affordable, bright display, portable, ready to play, Onion OS CFW
Cons: Stock FW issues, Limited specs
Rating 4.5/5
Summary: The Miyoo Mini Plus is an excellent handheld that doesn't break the bank. We just wish it had a little more power under the hood.
►Where to Buy:
LitNXT: https://www.litnxt.com/?ref=pandory 💥Coupon Code: LITNXT, SAVE10% 💥
AliExpress: https://s.click.aliexpress.com/e/_DEmIlJF
Amazon: https://amzn.to/3BpvibN
Our video review is available here: https://youtu.be/evVRsqDOtOo
#handhelds #miyoomini #miyoominiplus #retrogaming